Damien Nicol DO ND
BSc (Hons) Osteopathic Medicine 2003
BSc (Hons) Sports Science 1999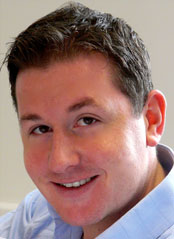 Damien established the Back & Active Clinic in 2003 and is an experienced biomechanical and musculoskeletal specialist working extensively with elite athletes from many disciplines including England cricket players, England Snow boarders, Elite Marathon runners, England youth tennis player, Pro Golf Players, BMW/ Seat touring car teams, Formula 1 Engineer Team, Professional dancers and the U18 England Olympic Gymnastics Team. Damien also works with people of all ages and disciplines from Hollywood stars, TV personalities, Strictly come dancing winner, pregnant mothers and school children with injuries ranging from back and neck pain, frozen shoulders to Sciatica and muscle spasm.
As an Osteopath Damien's philosophy is to work on prevention rather than chasing symptoms. As a result he works very structural-functionally with biomechanical analysis looking at the cause of the symptoms and thus works to prevent injuries as well as repairing them.
He specialises in neck and shoulder injuries and is seeing excellent results with his innovative techniques allowing a more rapid recovery which is essential for elite athletes and busy individuals. However Damien has adapted these techniques to apply to all joints of the body.
Prior to being an Osteopath Damien worked as a sports scientist and personal trainer so combines this knowledge together with Osteopathy to provide his patients with a superior, efficient course of treatment and rehabilitation. Ensuring every patient gets a tailored rehabilitation programme to ensure the best long term results and quicker recovery from injury.
Damien is an expert in Orthotic Prescription and biomechanical analysis allowing him to give onsite advice and bespoke orthotic (insole) fitting service for individuals. This helps take pressure off the musculoskeletal system again reducing injury time and reoccurrence. Call to book your consultation at our clinics in Belsize Park, NW3 & NW8.