Computer (DSE) workstation assessments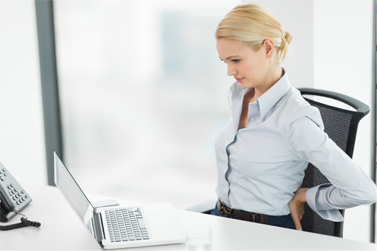 Back & Active Osteopaths provide workstation ergonomic solutions, Display Screen Equipment (DSE) risk assessments, and postural advice in the workplace and home.
CALL NOW to book your assessment or get a quote, 020 7586 6022.
Do you or your work colleagues suffer from work related upper limb disorders causing neck pain, headaches, back pain, repetitive strain syndrome, shoulder pain and/or general aches and pains.
The average person spends one third of their life at work. So why shouldn't we be comfortable in our work environment? Musculoskeletal disorders such as back pain are one of the biggest causes of sickness absence on any given day and are estimated to cost society and employers around £7.4 billion a year.
Back and Active Osteopaths can help. These overuse aches & pains are probably caused by a combination of poor posture and unsuitable equipment or incorrect positioning of equipment such as the chair, screen and mouse.
Our osteopaths have over 10 years experience treating musculoskeletal conditions and postural dysfunctions having extensive knowledge of biomechanics and how strain affects the body.
According to the Health and Safety Regulation, employers have an obligation to assess the whole workstation including equipment, furniture, and the work environment. DSE Assessments assist companies and individuals in reducing absenteeism from work by providing information and/or products to help the assessed person remain in or return to the workplace.
Updates are needed regularly and always when new equipment has been introduced or if staff have developed problems. Documentation in the form of a report needs to be kept.
DSE Assessments available:
All assessments are carried out by an osteopath, and are tailored to the individual finding possible causes of pain and eliminating these causes.
It will also provide suggestions for changes related to work equipment (e.g. suitable chair, keyboard etc.), workstation layout, and training or task design. 
 Any suggested equipment will be listed along with a list of known suppliers. It also includes the required DSE Assessment which highlights minor hazards.
A report will be issued within 7 working days. A priority service for the report within 48 hours is available at a small extra charge.
Simple Work Station Assessment:
Suitable for individuals with no pain or disability but interested in preventing pain.
DSE Work Station Assessment
Seated posture analysis.
Full report detailing modifications suggested.
Duration: 30 minutes
Advanced DSE Assessment:
This is suitable for users experiencing musculoskeletal pain.
Full case history and standing examination.
DSE Work Station Assessment
Seated posture analysis.
Full report detailing modifications suggested and ergonomic solutions.
Postural exercise advice.
Duration: 60 minutes
Please call Back & Active Osteopaths, Belsize Park for a quote on 020 7586 6022. Groups of 5 or more simple or advanced Work Station Assessments receive a discounts. For larger groups tailored made quotes can be given.
DSE Guidelines* 
In 1992, Display Screen Equipment (DSE) users legislation was passed, with further amendments made in 2002. The guidelines are written in an attempt to protect those who "habitually" use DSE.
What is a DSE user? 
The guidelines state that it covers anyone who uses a DSE "for continuous or near continuous spells of one hour or more" using DSE more or less daily. Part time workers are also included if they use DSE for the majority of their work load.


How can I comply? All DSE users must complete a standard DSE assessment usually in the form of a simple tick sheet. It is the employers duty to remedy "hazards" revealed during these tick box assessment. The guidelines further state that assessments should be carried out by individuals with the "expertise necessary" to make the correct judgments. Thus indicating qualified healthcare provider should undertake assessments of a more serious nature, i.e. for those with underlying medical conditions.
* correct at the time of print 2010