Cycle Setup Assessment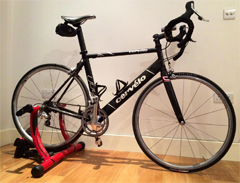 Damien completes simple, dynamic bike assessments to help you prevent aches and pains on and off the bike.
Most high street bike assessments are done by people with no medical or anatomical background so rely on computer packages that don't take into account your aches and pains.
Damien improves the bike you have by making small changes to your positioning on the bike that could change your comfort forever. He works with his superior anatomical and ergonomically knowledge and experience years to improve your bike setup and advice you.
If your bike set up is wrong you will either be experiencing pain or will probably in the near future. It maybe as simple as changing the seat position, vertically or horizontally or even the cleat position.
If you have back pain or knee / hip pain and don't know why but cycle to work ACT NOW, call now on 02075866022 for a cycle set up assessment with damien.